🔍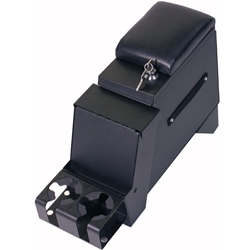 Tuffy Center Console 6.5″ Deluxe,FJ40
$324.95
Description
IN STOCK NOW!! 11/15/2021- This 6/1/2″ wide, 16 gauge steel security console features Tuffy's patented pushbutton latch system. For safety and convenience while operating the vehicle, the lid also latches closed without having to be locked. It has 2 compartments, a separate compartment for mounting a stereo, CB Radio, or other electronic equipment, and a lockable rear storage space lined with a rubber floor mat. The spacious rear compartment accommodates a CD changer, tools, and other valuables.
Patented Pry-Guard II locking system with a 1/4 inch steel latch which enables the lid to be latched closed without locking
Patented Anti-twist push button lock system with a 10 tumbler double bitted security key containing built in weather seals
Padded arm rest for added comfort, Marine grade vinyl
Weather resistant lid design incorporates an exclusive hinging system with built-in lid stop
Added security with Pin-Lock hinge design
Polypropylene seat belt straps
Durable texture powder coat finish
Grade 8 mounting hardware provided
Oversized drink holders with anti-rattle rubber drink fingers
Convenience storage tray
Stereo mounting compartment
Two point welded 1/2 inch solid steel striker
Floor mounted console. Fits any vehicle with sufficient space
**Does NOT work with bench seats. Additional hardware provided by customer or modifications to hardware may be required. Some applications have a special mounting kit to assist with install. Sold Separately. Mounts through floor, drilling required (3) holes.