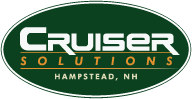 The year was 1992 when Cruiser Solutions made it's first advertisement in Toyota Trails magazine, of the Toyota Land Cruiser Association, under the name Land Cruiser Solutions.
In this advertisement our NEW revolutionary Aluminum Body Tub was presented to the greater Land Cruiser community for the first time. At that time our name was Land Cruiser Solutions. Since then we have changed our name and added many products to our inventory.
We offer TOYOTA parts, after market accessories, used parts, and custom built Land Cruisers. We also offer inhouse maintenance and service for your Land Cruiser. Our Land Cruiser Restorations and Service Department has become a recognized leader in the Land Cruiser community. Your vision, combined with our years of experience, Land Cruiser savvy and product knowledge, will be combined to produce the very best results at the fairest possible price.
We pride ourselves on highly personalized services for Cruiser enthusiasts who demand the very best.
Owners and admirers of Land Cruisers always enjoy the sight of a well restored FJ40, FJ45, FJ60 or FJ62, whether driving smartly down a city street or roughing it off the road. For many years I would seek out Land Cruisers to photograph them in their "natural habitat," whether they were parked on a Boston street or climbing the steep rocky trails of the Smokey Mountains, Moab, Utah, or the famed Rubicon Trail.
I saw and admired how each individual owner has created a one-of-a-kind Cruiser. And with each one that I saw, my desire increased–I wanted to restore a Land Cruiser, to design and create truly unique custom Cruisers that would be both beautiful and functional. My dream gradually took shape, as I restored Land Cruisers for family and friends.
These Cruisers attracted attention, and soon people were calling about body tubs, and power steering upgrades, and suspension systems, paint finishes, upholstery, and all of the hundreds of things you can do to restore and redesign a Land Cruiser. Almost before I knew it, orders for custom built Land Cruisers were rolling in. Cruiser  Solutions was born.
2005 marked a great transformation here at Cruiser Solutions. We moved into our state-of-the-art facility here in Hampstead New Hampshire. Please visit if you are in the area. We would be more than happy to give you a tour of our facility, a view of our current restorations, or to walk through the racks of Land Cruiser parts.