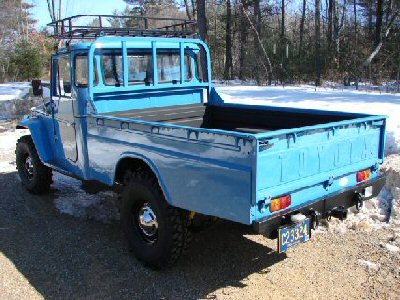 March 20, 2007- VIDEO UPDATE is now available.
March 6, 2007- Hey, look what's back! This great FJ45 returns for a few added items. We have custom built and installed a rear towing bumper at the customer's request. This custom bumper is the real deal. It has all the goodies associated with it; towing shackles, recessed reverse light, plate mounting bracket mount, 2" reciever hitch point, D-rings for the chains, and it bolts directly to the frame….no silly welding required. This bumper came out real nice. We also installed a Wilderness Rack up top. New stock rims and SS tires were also installed. These Super Swampers are beefy and could not be balanced fully. It will be trail use only for this FJ45. As a matter of fact this Cruiser will now be living out West on a ranch. Long drives to get the mail. Lastly we will wire in a Pollack Plug. PS-The diesel still starts on a dime during the coldest of New Endland Winter days!! This is a nice Cruiser.
July- 2006 This wonder 1967 FJ45L comes to us from the coast of Deleware for a full restoration/conversion. This will be a fun project over the next few months as we restore this original body back to better than original condition. We will also make a very interesting engine conversion to a 1989 12HT Diesel as well as a transmission conversion. There will be a few other upgrades, so watch here to see the most current restoration on the Web! Cruiser Solutions has them!